Summer is here, and with the current weather scenario, it seems like it's going to be quite hot. Don't worry, with the right add-ons this summer will be awesome! This summer, let an inflatable water slide from Ginflatables, cool you down.
Why Choose an Inflatable Water Slide?
On a beautiful sunny day, these slides appear to be the most delightful way to stay refreshed. It's a great way to beat the heat, and well, slides are just pure joy. It combines the thrill of a playground slide with the pleasure of diving into a pool. Doesn't that just sound fantastic?
If your children want to play in a pool but you can't afford one, here's a low-cost alternative. The cherry on top is that these inflatable water slides are excellent for both children and adults. You, too, need a break from the grind and the sweltering heat now and then, and these giant inflatable water slides are excellent.
In addition, these inflatable water slides are also available in a range of fun shapes, colors and themes, like aerospace, and unicorns!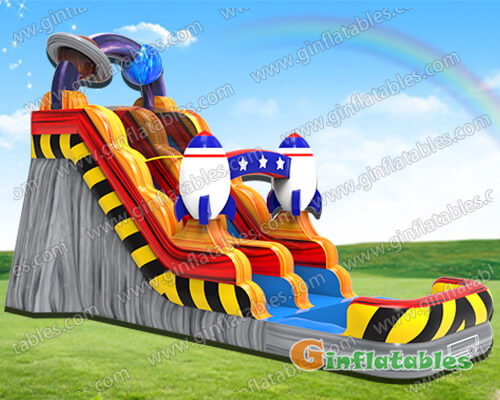 These water slides are also beneficial to businesses. Let's say you're the happy owner of a toy or gift store, and you're wanting to expand your inventory. You can purchase these water slides or even rent them out as well.
Where Can You Buy an Inflatable Water Slide?
Are you looking for a one-stop shop for all of your inflatable needs? Then, check out Ginflatables - an avant-garde store stocking only the best inflatable water slides for you and your family if you wish to acquire them.
It's affordable, durable, and a lot of fun for the kids. With their water slides, you can even throw birthday parties for your kids, or even have fun by yourself once in a while. You may rent these water slides if you don't want to buy them. Simply google "inflatable water slides for rent near me" to find shops that rent out these inflatable water slides.
Commercial inflatable water slides are available for purchase by playground and amusement park owners. These water slides and other inflatables give a good return on investment due to their long-lasting nature, durability, and ease of maintenance.