Winter has faded and spring is almost here. Soon summer will make it's presence known. That means soon it will be time for sunny splashing in the backyard or parties on the inflatable water slides. It's time, as an inflatable rental business owner, to get your product up and ready for work.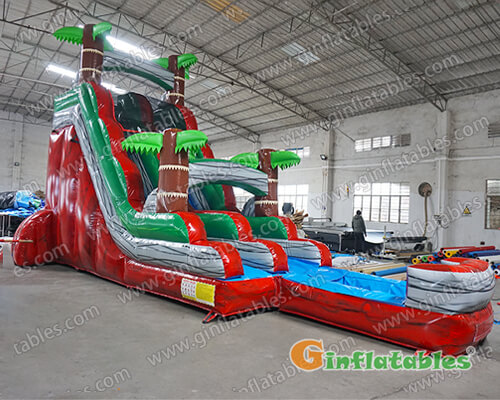 Here's how.:
1.Get the inflatable out of storage
It is important to store the inflatables in a clean and dry place, away from animals. You will need very dry, clean and big enough place to roll out the product completely. Later, you can blow it up to check for any damages that may have been caused.
Some useful tips for getting the blow up water slides out of storage.
Moving the product out of storage is a two-man's job. Get people to help if you are doing it or make sure at least two of your staff members do it together. It's a good way to avoid any damages while moving.
Use a dolly or a hand truck to move the inflatables out. As an inflatable rental business owner, you are sure to own one.
Ensure the area on all sides is clear. You wouldn't want other things to lean on or pile up against the product.
Do not remove the storage bag unless you are absolutely ready to roll out the water slide.
2. The end of winter water slides inspection
It is time to quickly inspect the inflatable waterslide now that it has been moved and rolled out. Make sure to examine the unit carefully. Look for:
Tears, punctures or rips. Check the easy deflation zippers, inflation tubes and seams. Check the areas with netting for any damages.
Mildews and mold can destroy the inflatables. And there is a higher possibility of them growing in the storage. Inspect the unit thoroughly and take all necessary steps to get rid of them if you find any.
Check if you missed something dirty when it was last cleaned. There is a good chance that your product needs a thorough cleaning again.
Plug in the blower to make sure it's working before you decide to use it on the inflatables.
Count your products and check the other accessories to ensure nothing is missed.
3. Repairs and spring cleaning
If you find any damage to the product, get it repaired so you are ready for renting out. Once that is done, blow up the water slide. It will help you clean the unit from top to bottom. In case it looks clean enough, wipe the product with bleach-free disinfectant wipes.
The water slide must be left to dry completely before it's put back in storage.
4. Summer storage
Be sure the inflatables are accessible wherever they are stored. The dolly or hand truck must be kept nearby. You must still make sure the place of storage, a warehouse or the garage, if that's a possibility, are spacious, clean, dry and can successfully keep the animals out.