Nothing sounds more comforting than spending the day on an inflatable water slide with your family on a scorching afternoon. Water slides promise big smiles and happy memories. But it doesn't just end there.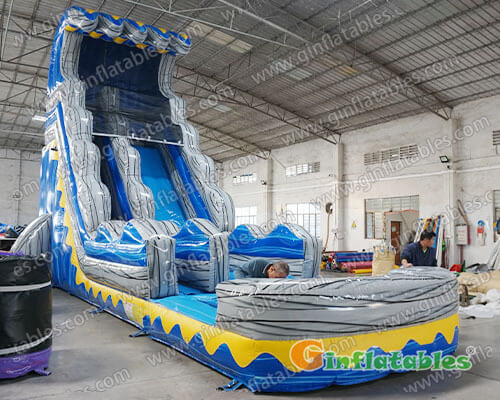 Inflatable water slides, unlike it's other counterparts, are suppose to stay wet for all duration of the use. However, wet does not mean clean. In fact, all that water acts as a host for a number of bacteria and germs. It is for this reason they demand extra care and more effort for cleaning them right after being used.
Following are the steps that must be followed to ensure your unit is clean and fit for renting out after an event.
Step 1: Inspect
The water slide must be very thoroughly and carefully examined, covering every inch, every corner. Get a clear understanding of how much work is required. It's most convenient to do so while the unit is inflated and at the job site.
Search and remove the loose debris such as leaves, toys, sticks, jewellery etc that you find in the product and return to the owners.
While inspecting the inflatable water slide, look for the following:
Grime, dirt or filthy areas
Loose objects
Worn out spots and fading colours
Physical damage such as tears, punctures, rips, scuffs or stressed areas that could tear soon
Mold and mildew
Areas retaining moisture that shouldn't have any
Step 2: Rinsing onsite
With the permission of the property owner, give the unit a thorough rinsing. Do this while it's still inflated. Once done, deflate the water slide and roll it up. You can even give it a quick once over with a towel before packing up.
Step 3: Rinsing again at the base
Once on your own property, it's time to properly clean the unit. You must inflate the water slide again to ensure thorough cleaning. Use a hose with decent pressure and go over the water slide. Cover all sides, including the underside. Spray the areas that may have caked up mud.
Step 4: Deep clean
Use a mild cleaning solution for this step. Avoid using solutions containing bleach at all cost. Apply the solution on your commercial inflatable water slide. Focus on areas such as landing area, ladders/steps. Make use of a rag, a sponge or a soft-bristled brush to lightly scrub the areas that have a build up of dirt. After this, rinse the unit and ensure no soapy remains are left behind.
Step 5: Disinfect and dry
It is crucial to spray or wipe the water slide with a disinfectant, given how it can be a breeding ground for bacteria and germs. Scrub the product properly with a bleach-free disinfectant wipe. Remember, the disinfectant shouldn't be rinsed off.
Finally, dry the water slide before storing it away. You can use soft dry towels to wipe the excess water. Make use of a leaf blower if you are short on time. Otherwise, the best method is to let it dry naturally in the sun and air.