In this scorching summer season, the key to making your children happy is through Slip N Slide inflatable water slides. Of course, buying one can be a pretty big investment, so you can rent one out too, from platforms like Ginflatables. Before you buy one for your backyard, it's a good idea to compare the pros and cons, to make an informed choice.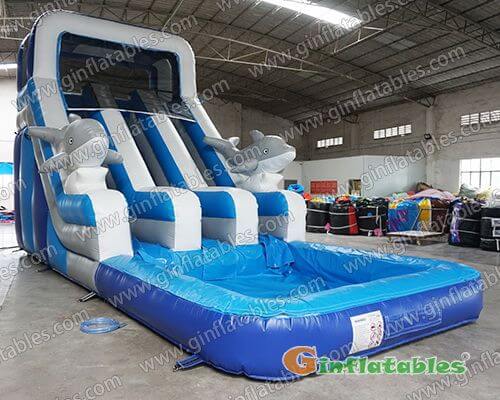 Aspects You Must Keep In Mind While Buying A Slip N Slide Inflatable Water Slide
Certain factors need to be kept in mind while looking for the best inflatable water slides, like listed below.
1. Age Matters
Age is not just a number here, and it matters. Not every inflatable water slide is produced the same way; some are built for kids of a specific age range only. The ones made for children may not be suitable for adults, so choose wisely.
2. Size
Before you buy inflatable water slide, you should confirm the space you have in your backyard or wherever you desire to place it. Here, size is of the utmost importance. It must fit wherever you want to put it, without congesting the area.
3. Portability
Whenever you buy inflatable water slide, confirm how portable they are. A portable water slide inflatable is easy to carry around and store as well. They can also be folded up and stored when not in use.
4. The Kind Of Material
It is necessary to analyze the material your slip n slide inflatable water slide is produced of; this will ensure your kid's safety. Ginflatables products are created of durable, toxin-free materials. Buying a water slide made from a durable, scratch-free material will be the best decision.
5. Availability Of Repair Kit
You cannot always visit a shop to get your slip n slide inflatable water slide repaired; these must come with a repair kit. Hence, when you are browsing around to buy an inflatable slide, ensure that a repair kit has been provided so that you can repair the damages, if any.
Pros And Cons Of Slip N Slide Water Inflatables
Pros
● An inflatable waterslide can keep your kids busy and entertained for the whole summer season, and your kid is going to love it.
● Water slides are suitable for your kid's health. By keeping your kids indulged in physical activities, these slides ensure that your kids remain healthy and hearty.
● These slides may even help them in making new friends! Playing in inflatable water slides can be a great way to begin a friendship.
Cons
● Due to the slippery surface of the slides, a child may fall and get hurt; this occurrence indeed can be quite dangerous for the kid.
● These water slide inflatables are usually so big that they cannot fit into small areas. Thus these inflatables require large and spacious areas, like a backyard.
Final Words
Investing in an inflatable waterslide is the best choice, especially if you have the space and area to fit the slide in your house. It will prove to be the best gift for your kid, and they will love you for it! You can also enjoy with you kids! Just keep the crucial safety measures in your mind while buying an inflatable water slide.