Organising events as an appreciation of their employees is a common practice among companies. One such popular event is company picnic. And from the point of view of a rental business owner, they are excellent sources of giving impressive revenues.
Summer months from June through October (depending on the region you live in) are the perfect time to organise a company picnic. Along with the guarantee of tons of fun, inflatables such as the blow up water slide pave the perfect way to beat the heat.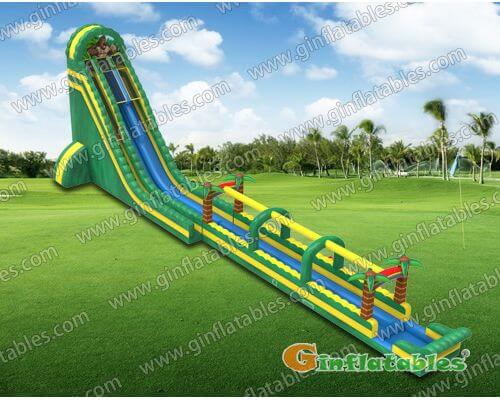 Here's how you can capitalise this opportunity either as a budding or a professional inflatable rental business owner.
1.Engage into networking more often
Often times we know people who know other people who work for these large companies. Get in touch with them and let them know you own an inflatable rental business. Talk passionately of your work. Give them your business card and information about your products. You want to appear excited not overbearing. Ask them what activities their company indulges in for employee appreciation. See if they could get you a quick introduction with the event organiser of the company in question.
In addition to that, make sure you attend business-networking events. That is where you can meet potential clients. Bring your inflatable water slides, bounce houses, obstacle courses etc if the event gives a chance to set up a table. Let people have a peek at what you have to offer.
2.Promotional Offers
See how much collateral for marketing you currently have and decide if the promotional material from past corporate events can be used. In case there is a need for creating new collateral, come up with something that is universally relevant and not specific to any industry. Offer the company with an ongoing promotion. For example, 15 percent off on annual picnic. Such offers act as an encouragement for the companies to book you ever year. Add something to the package for good measure like extra hours.
3.Buy ad spaces
Is there a trade or newspaper publication in your community? Do a little research and find out which publication the event planners and corporate leaders prefer to read. Look for industry specific trade magazines or simple business journals. Get in touch with the advertising department for asking price of the ad. If you buy more than one ad placement, often times publications ask for lower prices.
Place your ad when the season begins and midway through it to increase your chances of getting booked for company events.
Company picnics are excellent chances to increase earnings during the summers. This time especially, certain inflatables like the commercial inflatable water slides, ensure a good inflow for business, given their popularity. Company picnics also present the employees with enough exposure in case they need to make a booking for a personal event. You must make sure enough quantities of advertisement collateral are available onsite to drive future business.