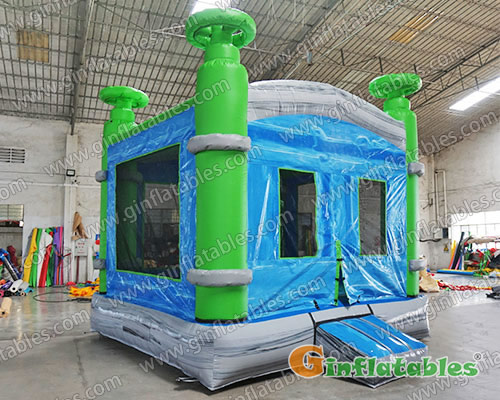 Cleaning your big bounce house in quick & easy steps
Your big bounce house is certainly quite attractive because it is very much fun to try it out. The problem is that over time, it gets dirty, and you will have to clean it. Cleaning your bounce house ensures that you will be able to extend its life. And while it may seem hard, it should not be as hard as you think it is. This is why you will be able to do so by following the quick and easy steps below that would answer how to clean a bounce house.

Vacuum the house
The first thing that you would have to do would be to vacuum your bounce house or simply go inside it. You should be able to clean the house while it is all filled with air, which is why you ought to keep it inflated because it makes it easier to clean all the corners that you might not even see when you deflate it out. Whether it is a small broom or a vacuum, you can work things out. The most important part is that you will be able to do it thoroughly. From the large ones to the smallest debris, the vacuum that you have is bound to just remove everything.

Spray on spots
Once you have finished removing the debris with your vacuum, the next thing to do is spray over the spots that seem dirty in your big bounce house. Find some pretty good spray that will help you clean everything, even the toughest of dirt. There is a lot of good cleaning formula out there, and you just need to find the right one that works for you. You can also use some bleach if you find molds that are hard to clean. Also, make sure that you will rinse it later on to remove all of it.

Scrub it out
Well, once you have put the cleaning formula, depending on the instructions, the chances are that you will be able to scrub things out. You want to use a soft bristle brush so that you are going to be able to keep everything around your house safe. This might take you some time, but you will have to do this to ensure the cleanliness of your bounce house. You might check out bamboo brushes as they s known to be good for people and good for the bounce houses.

Rinse and dry
Once you have sprayed cleaning solution and you have scrubbed what you can out of your house, the next thing to do is to rinse everything and dry them. Making sure that everything is dry allows you to prevent white spots that often appear in a lot of places because of the water drying on those spots.

Store
When you have cleaned it out, you can now deflate it; you best be sure that you are going to be putting it somewhere. It will be safe and sound. You can quickly store some items in a trusted storage supply too.
What matters most is that you love what you are doing, even the part where you have to clean things out.