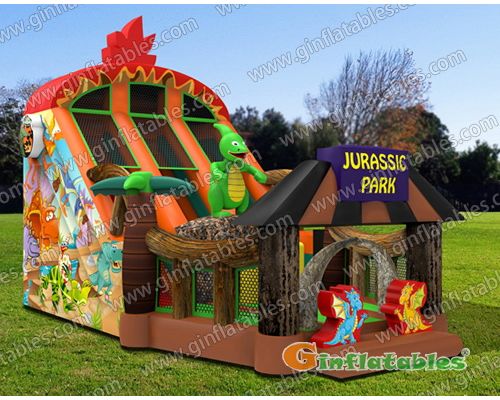 Jurassic Park Slide: Roar in the Water
Who said paleontologists could not have fun? If your kid has a thing for dinosaurs, then you have the perfect playground item for them: a Jurassic park slide. The overall function of the slide is similar to other inflatable slides you can find on the market.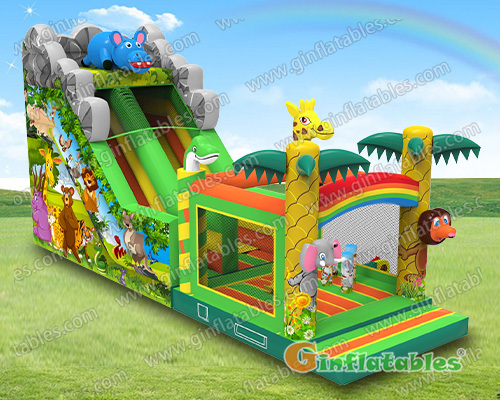 What makes the slide stand out is its design. Few kids do not love animal-themed toys or other playthings. That is why animal-themed inflatable bouncers are highly popular.

Regular inflatable slides can do everything a slide can do. Inflatable bouncers and slides are widely popular among people of all age groups. But plain inflatable slides are less exciting than themed ones.

The Jurassic park inflatable slide from Ginflatables is shaped as a little playhouse for kids to have fun. The exterior designs are lively and a little childish. It is perfect for setting up in the backyard so the kids can have a good time.

Why Should You Get an Inflatable Slide?
Kids look forward to the long summers with eager anticipation. It is understandable, given that winters leave their bodies cramped within. They enjoy summer activities that provide entertainment and enjoyment after a long, cold winter.

Inflatable water slides are a popular attraction, particularly during the summer months. Summertime means going on outings, swimming pools, theme parks, and water parks.

Only some homes include a pool on the lawn or in the backyard. Finding a safe body of water for children to swim in might be challenging. You might have a pond near the property, but it might be unsafe for your children to play in.

Inflatable pools are great fun, but you can make things more enjoyable with an inflatable water slide. When it comes to outdoor sports, water slides offer a certain level of pleasure. Setting up an above-ground pool is a complex and time-consuming task. In comparison, an inflatable Jurassic park slide will appear to be quite straightforward.

It would be best to have a blower to inflate your Jurassic park slide quickly. Keep a few things in mind before you set up the slide.

You should follow pool safety requirements if you place the inflatable slide immediately next to a pool or pond. Setting up a Jurassic park inflatable slide for the kids should be safe. But it is better to be safe than sorry.
While inflatable water slides are relatively safe, it is advisable not to leave children unattended. Because there is water involved, it is feasible for an accident to occur. Even if the pool or body of water is not deep enough, an adult should be present when the children are having fun in the inflatable Jurassic park slide.

Jurassic Park Inflatable Slide Features
• The slide's reinforcements on the stress points improve its durability.
• The slide liner is removable and increases the lifespan of the slide.
• The slide's alloy anchors are free of rust and mold.
• The exterior's excellent digital print makes the slide appear more vibrant.
• The printed exterior has a protective coating that prevents scratches on the Jurassic park slide from showing.
• The fitted zipper has a protective flap to help water drain quickly down the slide.
• Waterproof Velcro is included in the pool liner.
• Buyers would get a 2-year warranty after purchasing the Jurassic park slide.

Things to Consider Before Setting Up an Inflatable Water Slide
The rental company will do most of the work if you rent an inflatable slide for the day. Just like inflatable bouncers, there are rental companies that allow people to rent inflatable slides whenever they need them.

For a quick setup, looking for rental companies that provide inflatables for sale is a good idea. But if you have your own inflatable water slide, it is best to master the art of setting up the slide.

The first thing you need to consider before setting up an inflatable slide is to determine the location. The size and shape of your slide will come into play here.

Water slides are not something one can set up inside the house. When you are planning on setting it up outside, you need to identify the exact spot where the slide will be.

Inflatable water slides are made of safe, lead-free materials. The whole point of an inflatable water slide is to allow kids to jump around without a care in the world. So when setting up the Jurassic park slide in your backyard, there should be no worry in your head regarding the safety of your kids.

Inflatable slides don't need to have water around. You can opt for the dry method and still have fun. Put on some socks and avoid jeans to make it more slippery on the slide. But if you want to treat it as a water slide, there should be a water source nearby.

You can have a water source or water body to fetch water. A lot of people prefer to recycle the water when they are using an inflatable water slide.

If you make the necessary arrangements, it is best to recycle the water. You can get a water circulation kit separately if you do not have one already.

Conclusion
We hope there will be no disaster with a Jurassic park slide since there are no dinosaurs to cause mayhem like in the 1993 movie. It is a harmless inflatable slide for kids to have a great time in.

If you are planning on buying an inflatable slide, you should check out Ginflatables for a comprehensive list of inflatable products. An inflatable slide can provide great enjoyment during hot summer days.

The Jurassic park slide is a fun element to add to the backyard. Kids can have a waterpark experience without stepping out of the house.