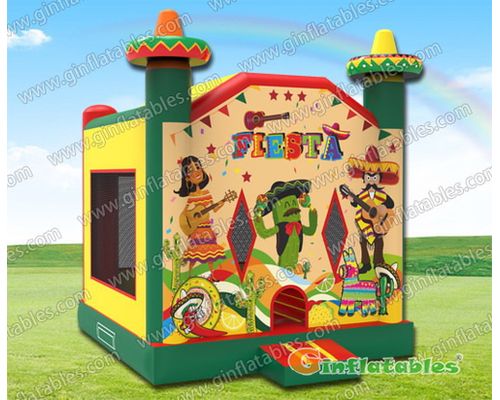 Mexican Bounce House for Kids: Is it worth buying?
Hola, amigos! It is time to put on a sombrero and indulge in a fiesta with the perfect Mexican bounce house. When you have an inflatable bouncer, your children don't have to wait until the weekend to go to the playground or visit a bounce house. You can bring the playground fun in your backyard or the living room.

Bounce houses have long been a popular sport for toddlers. Inflatable bouncers are frequently found at playgrounds and kid zones to keep children entertained.

However, several inflatable bouncers are available for parents to set up independently. This Mexican bounce house is suitable for both indoor and outdoor settings. You can get this bounce house any time from Ginflatables.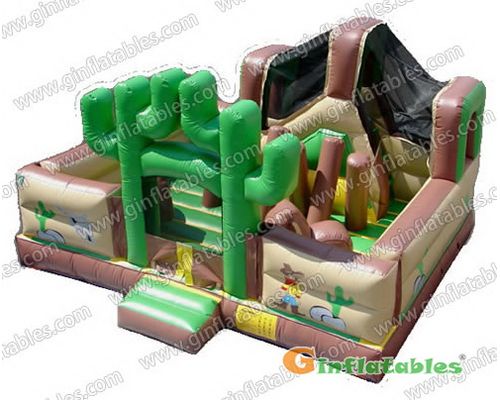 Why Should You Get an Inflatable Mexican Bounce House?
Inflatable bouncers are excellent for rainy days or colder months. Various little bounce house models are available that you can put up inside your home or in your garage. This Mexican bounce house is one of those inflatable bouncers that can be easily set up indoors or outdoors.

An inflatable bouncer is not just a fun spot for children to play; it is also one of the most secure. Inflatable bouncers can keep children safe regardless of how much they jump around inside them.

One of the significant benefits of getting an inflatable bouncer for the little ones is that it contributes to a child's growth. Jumping is a strenuous sport that stimulates some of the body's primary muscles. It is a fun way of doing a little exercise.

People often lean towards commercial bounce houses whenever there is a birthday party or a kid's get-together. Commercial bounce houses may last longer, but they are also pricier.

Not to mention the massive amount of space a commercial bouncer needs for setup. It is nearly impossible to set up a commercial bounce house indoors.

Renting a commercial bouncer might seem like a good deal in an emergency. If you need to find a Mexican bounce house on short notice, renting one may be the best option.

But in the long run, buying a Mexican bounce house should be your intention. When you have a Mexican bounce house nearby, your kids can have fun playtime any day. This Mexican bounce house from Ginflatables is just the right size.

The bounce house is not massive that you have to set it up in the yard. You can easily inflate it inside the walls of your home so your kids can enjoy jumping around even if it is raining outside.

Inflatable Mexican Bounce House
A Mexican bounce house is not just suitable for a Mexican fiesta or a fiesta-style birthday party. There are many models and variations for getting a bounce house. Some people prefer animal-themed bounce houses, while others lean towards different-themed ones.

Ginflatables is known for producing high-quality commercial-grade products. So, the Mexican bounce house is made from the finest quality vinyl. The lead-free construction adds to the bounce house's overall durability.
The windows on the home's exterior are covered with mesh so that parents can observe their children from outside the bounce house.

The shape of the house is quite normal. It is a trampoline disguised as a small-sized house. If you are not interested in buying something extravagant or a bounce house designed after an animal, consider purchasing this one.
The Mexican bounce house from Ginflatables is simple enough for parents that want something minimalistic, and the high-quality ink print on the exterior makes it fun enough for the kids to love.

Inflatable Mexican Bounce House Features
• Protective coating on the printed exterior prevents scratching
• Multi-layered stitching on various panels to ensure durability
• The anchor alloys of the bounce house are resistant to rusting or welding
• A 2-year warranty is included with the bounce house for the buyer to claim
• All standards were maintained in the manufacturing of the house. And it comes with necessary certifications (i.e., EN14960, EN71, ISO, and so on)

How to Care for a Bounce House?
Buying a quality and durable bounce house is only enough if you take proper care. If you leave out the bounce house in the backyard throughout the year, no matter how the weather gets, it will only last you a few months.

Inflatable bouncers need very little care to last a very long time. Setting up an inflatable bounce house is a quick chore with a blower at home. The best approach is to deflate the bounce house right after your kids are done playing there for the day.

Before you let the bouncer deflate for the day, vacuum or sweep the jumping area of the inflatable bouncer, it should help you eliminate any unwanted debris or dirt.

To properly clean the bouncer, you can get a mild cleaning solution and use it to wipe the surface of the bounce house. For inflatable slides, you can hose them down before putting them away.

Ensure the inflatable bounce house is completely dry before you store it. A damp bouncer surface can trigger molding, which would damage the fabric.

Conclusion
It is relatively easy to find some decent inflatables for sale. You might go to your local toy store or look for a reputable online store with a good collection of inflatable bounce houses.

Ginflatables has a large selection of inflatable bouncers to choose from. There are inflatable slides, trampolines, and even moonwalks for sale.

We hope this post has helped you decide whether to go for the Mexican bounce house from Ginflatables. Get a bounce house for your kids to play around without going to the playground. It is a good investment that would deliver you something priceless: your kids' happiness.