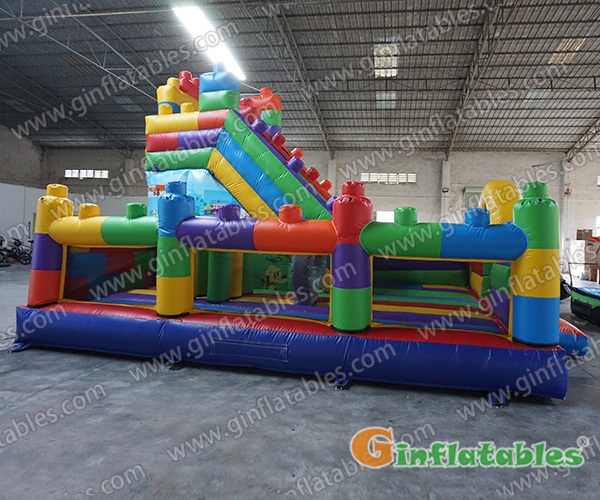 Building Block Playground: Lego Inflatable House
When it comes to inflatables, the preferences help broaden or narrow down the search. If you need a combo inflatable that offers more than one feature for your kids to enjoy, then you can consider this Lego inflatable house from Ginflatables.

This building block playground is just what the term implies: a miniature playground.

The inflatable house has it all. It combines a bounce house with slides, but the design is unique. If your kid is a big fan of Lego and spends all their spare time building blocks with Lego, then you can surprise them with this Lego inflatable bounce house.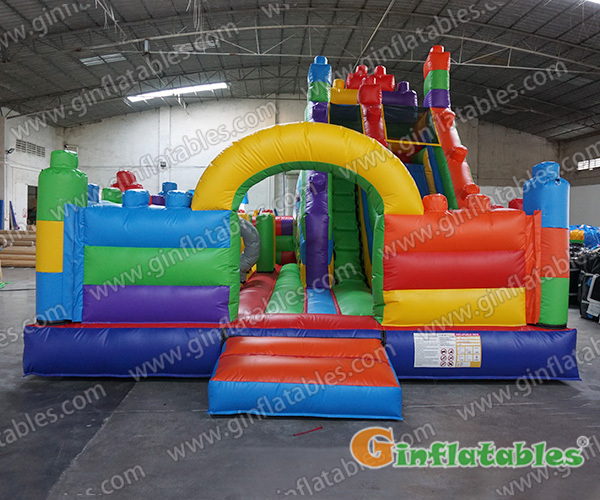 Why Get an Inflatable House for the Kids?
Kids are very energetic. That is why parents take toddlers to places like a playground to burn off all their energy. If your area does not have a playground, there is no need to feel down since you can have your personal playground with the help of a building block playground.

An inflatable bouncer allows fun and physically taxing activities for the kids. Jumping around or playing on the slide can tire out a kid quickly.

Inflatable bouncers are also beneficial for children who are overweight since bouncing on the inflatable bouncer burns more calories than other children's activities. Even kids can experience mental issues such as stress or anxiety. Having an inflatable bounce house at home paves the way for the kids to relax.

An inflatable house by itself can be a fun activity. The fun would only increase with the many additional features included in the house.

The building block playground is not just a bounce house where kids can jump around aimlessly. A slide is included with the house, but you can detach it if needed.

Inflatable bouncers or houses are a great way for kids to connect while having fun. Bounce houses have enough space to house multiple people, at the same time. If you get an inflatable house for your kid, it will improve their image.

Confidence should be practiced from a young age to take proper effect. With an inflatable house at home, your kids would have an excellent reputation among their social circle,'
Inflatable houses are also an excellent way for kids to grow physically and mentally. A combination inflatable house like the Lego inflatable includes different activities for kids to engage in. Since the sport is for kids to jump around in a particular spot, it would help them to burn some calories.

Lego Inflatable Building Block Playground
Instead of going to the playground, bring the playground to your doorstep. The Lego inflatable playground offers various fun activities for kids to indulge in. The house is shaped like Lego building blocks stacked together. The vibrant colors make the inflatable house stand out no matter where you place it.

There is a slide included in the house. The slide can be detached if needed. You can use the inflatable house for water activities as well. Think of the slide included in the house as a regular inflatable water slide. Then the house would also be of great use during the hot summer months.

The inflatable house is quite spacious but also practical. You would not have to set up the inflatable house under the open sky. You can set up the house comfortably if you have an oversized garage or a living room with enough space.

By placing the inflatable house indoors, you can keep it safe from rain or mild snowfall during winter. The commercial-grade seal on the seams prevents water from leaking into the inflatable house.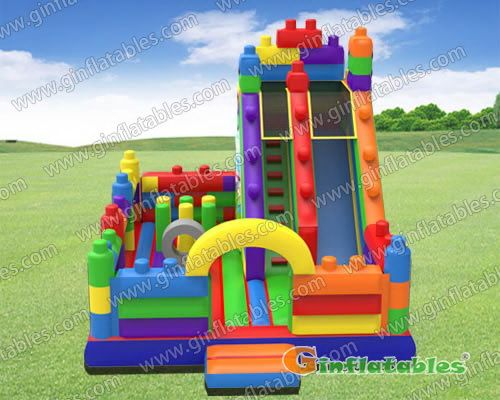 Lego Inflatable Bounce House Combo Features
• The vibrant color combination in the outer area
• Strong multi-layered stitches on all the panels
• Detachable slide
• Water units are sealed, so there is no water reaching the interior
• The inflatable house combo comes with a 2-year warranty

How to Care for Inflatable House or Slides?
Buying a high-quality, long-lasting bounce house is only enough if you take proper care of the inflatable house. It would not last long if you kept the bounce house out in the backyard all year despite the diverse weather.

Before storing the inflatable house (maybe in the garage or the attic), ensure that the storage area is cool and dry. If the house is made to withstand wet and dry scenarios, it would be easier to clean it.

You can follow the same rule as cleaning inflatable slides if your house is made from a wet and dry combination. You can use a garden hose to rinse the inflatable house thoroughly.

If the inflatable house is made for dry use only, clean the debris or sweep it away with a broom. After the rinse, you can use cleaning solutions to clean the surface before letting the inflatable house dry off.
Inflatable bouncers should be thoroughly dried off before you decide to store them away. If you put away inflatable bouncers when they are still damp, it would trigger molding on the house.

Conclusion
A bounce house is a fantastic investment that improves your children's health and works as a fun sport. Instead of investing in a singular product, you can go for a combo like the inflatable building block playground.

It offers a combination of inflatable slides and inflatable bouncers. This all-in-one Lego inflatable can turn any backyard into a playground.

Get an inflatable building block playground for your kids so they do not have to insist on going to a playground. Inflatable bounce houses help improve self-esteem among kids since they spend many stress-free moments playing in the bounce house.