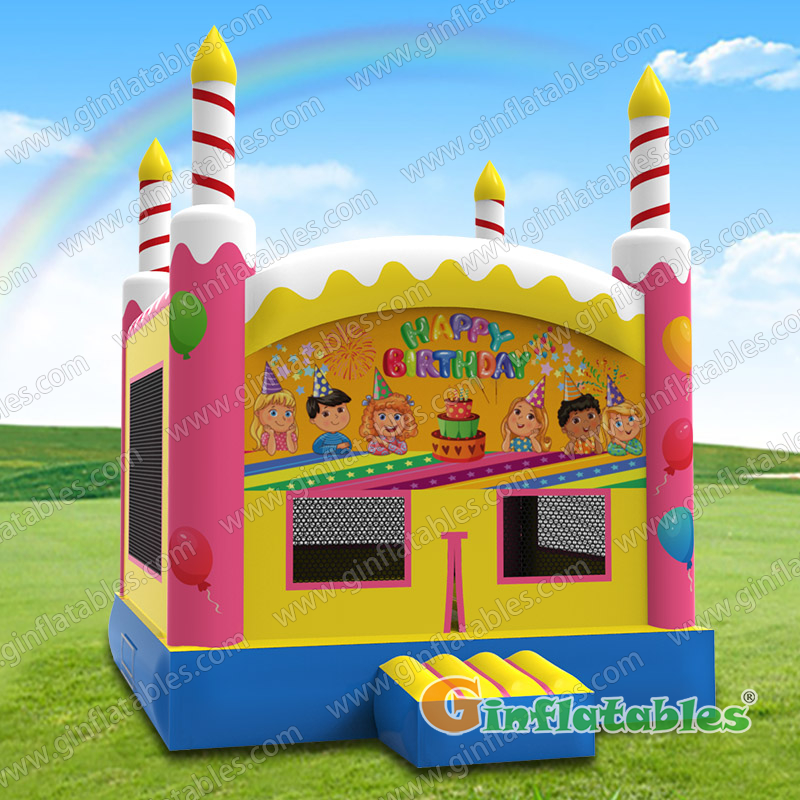 Why should you Buy Inflatable Bouncers for your Kid's Birthday Party?
Inflatable bouncers are one of the top choices for grand birthday parties, and they have been around for a very long time. It is mostly used for recreational purposes at various birthday parties or picnics. Children are very energetic; as a result, they find it thrilling to jump around in these inflatable bouncers. There are many scenarios where it becomes difficult for adults to resist the urge to bounce in an inflatable bouncer.

Inflatable bouncers used to be an essential item during birthday parties. Nowadays, the trend is decreasing slightly due to technological advancements and new forms of entertainment in the market. However, we still highly recommend you purchase inflatable jumpers for your child's birthday party to make it entertaining.

In this article, we will highlight why you should look into inflatables for birthday parties and other children get together.

Reasons to purchase inflatable jumpers for birthday parties

Let's look into some reasons why investing in an inflatable bouncer will be a game-changer for parties.

· Inflatable bouncers are easy to set up and very portable
It is quite easy to set up your own inflatable jumpers. Firstly, you need to decide whether you want to set up the bouncers in your backyard or some other place.

If you want to set up in your backyard, all you have to do is purchase the inflatable bouncer. Once you purchase the inflatable jumper, you need a blower. The blower will help you to inflate the bouncer, which can take about 5 minutes. Afterward, you need to pin down the bouncer so that it stays still. Anchoring the inflatable moonwalk properly is important as it ensures safety while the children are bouncing on it.
Moreover, if you want to arrange a birthday party in a park, you should consult with the authority to let them know about your plans. You must apply for permission and pay out all the fees before you set it up in a park.

· There are several types of inflatable bouncers
Nowadays, you can find several types of inflatable bouncers with various themes. There are bouncers which are entirely shaped like birthday cakes. These fun shapes and themes intrigue the children.
This is highly useful if you are having a theme-based birthday party. For instance, if you are having a Jurassic theme birthday party, you can purchase a T-rex jumper bounce house from Ginflatables. You can also purchase various bouncing castles to enhance birthday party decorations. Moreover, if you are having a summer theme birthday party, you can also purchase bouncing water slides which can be fun for children.
This gives you several options for inflatable bouncers to choose from. Purchasing an inflatable jumper can make your theme-based birthday party more fun and attractive.

· Entertains the children
Children are very energetic, and they love fun activities like jumping around. Hence, purchasing an inflatable bouncer for your child's birthday party can make their birthday more fun.

Inflatable bouncers can be one of the top fun activities at a birthday party. This is because it can accommodate several children. You can invite neighborhood children and school friends to bounce around. Moreover, for a huge birthday bash, handling all the children can become quite a handful. Setting up an inflatable bouncer will keep them busy and entertaining.

Furthermore, as mentioned before, you can get theme-based inflatable bouncers. You can even get haunted theme bouncers which can be quite a thrilling adventure for the kids. You can also reuse these themes based inflatable bouncers for other parties as well in the future.

· An easy getaway from devices
Nowadays, children are very much into electronic devices due to technological advancement. They are more inclined to stay indoors and use their devices.

Throwing birthday parties with outdoor activities like inflatable bouncers can encourage children to do more outdoor activities. This will further help them to move around more. Moreover, outdoor activities like bouncing around will elevate your child's mood due to increased adrenaline. The children will also burn calories, promoting a fun way to burn some calories.

Moreover, inflatable bouncers encourage your child to socialize with other children. Group activities like bouncing houses can encourage your child to involve themselves in teamwork. Moreover, you can also look into Ginflatables for various inflatable games, which can be very interactive activities for the children.

Recommended inflatable bouncer from Ginflatables for birthday parties
Here is one of our recommended inflatable jumpers, which is highly recommended for birthday get-togethers for your children.

The birthday cake bouncer
The birthday cake bouncer by Ginflatables is the perfect choice for a birthday-themed inflatable bouncer. This can be set up in your backyard easily for outdoor parties.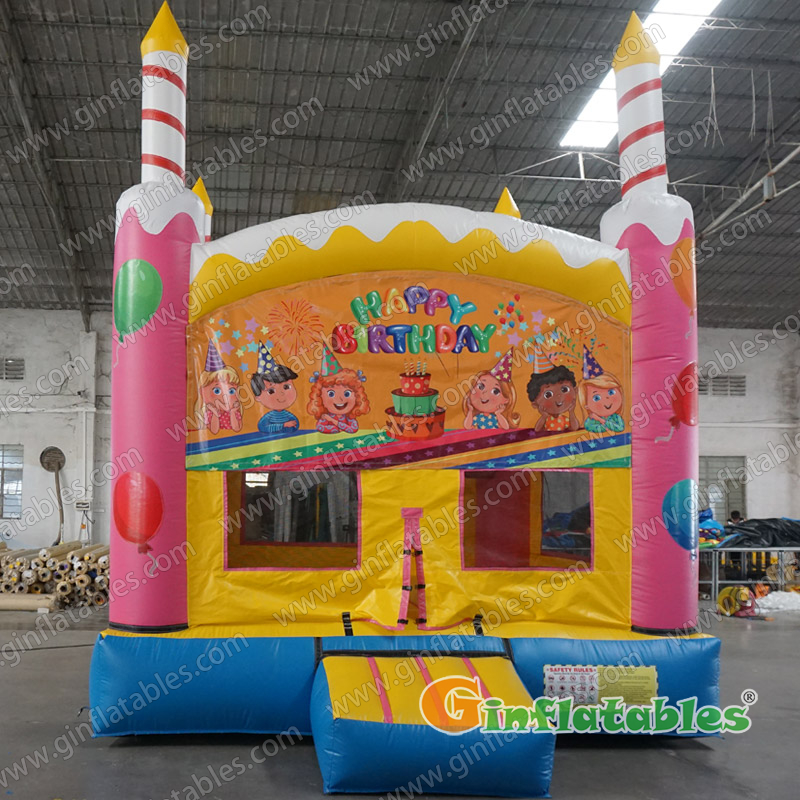 The inflatable bouncer has promising qualities and commendable features. The inflatable bouncer comprises commercial grade 15-18oz heavy-duty vinyl material. The anchors are made of alloy materials that prevent rusting and provide a sturdy structure. The birthday cake bouncer also comes with zipper drains that help drain water. Moreover, the inflatable jumper is manufactured by using a full-automatic cutting machine. This helps the bouncer to have a high-quality finish, making it durable. Furthermore, you can reuse this inflatable bouncer due to its high quality.

The bouncer is also made from lead-free material and has various certifications that make it environmentally friendly.

Conclusion
An inflatable bounce house is an amazing way to level up your birthday parties. You can never go wrong with purchasing an inflatable moonwalk, as most children love it. Inflatable bouncers are reasonable, easy to set up, and entertain your children during parties. Moreover, it will help you to coordinate your birthday theme better due to the abundance of choices. We highly recommend you check out Ginflatables for more choices in inflatable bouncers. You can also purchase our recommended birthday cake bouncer if you want a quick purchase.