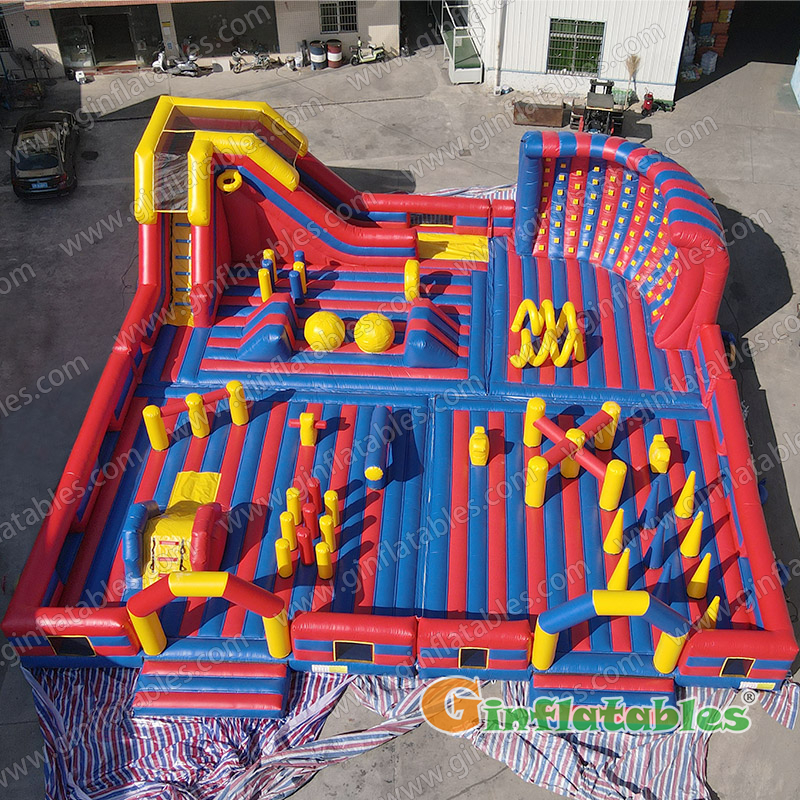 Keeping Your Bounce House Clean: A Complete Guide
Keeping a bounce house clean and safe is a huge part of owning it. You surely wouldn't want to ruin your fantastic Jungle Shooter Funland bounce house when using it just a few times, and you wouldn't want your kids to get infected by germs after a fun day at the bounce house. You must know how to clean your inflatables to keep these from happening. Before being rolled up and stored, you should ensure all your inflatables are completely dry and spotless. Since if you don't wash and clean your inflatables after using them, mildew and bacteria can quickly grow on them, and spots can set in and be difficult to remove.

Nowadays, you can use many methods to cleanse, maintain, and stop your inflatable bouncers from being bacterial spawning grounds. But which one should you follow? We're here to show you just that. Keep reading our detailed post to learn all about cleaning your inflatable bouncers.

The Basics Of Cleaning Your Inflatables
A bouncy house is best cleaned using a cleaning agent and wiping it out. But before we get into the details, here are some basics you need to remember when cleaning your inflatable bouncers.

Your inflatable should ideally be cleaned in an open and dry space. On a bright, sunlit day, you can choose a shed or a garage for this. First, clear any bulky objects by hand, such as twigs, food wrappers, and other debris. Try a soft bristle brush or a hoover for this. Then, scrub the inflatable castle's exterior with a trampoline disinfectant, hot water, and a rag or towel.

In order to allow one portion of the bounce house to dry while you concentrate on another, try to clean it in parts. And to avoid walking in areas you have already cleaned, it is advisable to sanitize the inflatable first from the rear to the front.

Another option is to combine inflatable detergent and water in a plastic container and mist your devices with the mixture. Whenever you're ready, wipe it away.

After cleaning the inner surface, scrub the exterior. Lastly, keep in mind to give the inflatable enough time to dry since bouncy castles can grow fungus and mold when they are kept damp.

What To Clean Your Bounce House With
Use a suitable washing agent to apply to the base of the castle while cleaning your inflatable. There are lots of cleaning products available on the market.

Only expert items created especially for bounce houses, giant play park funland and jumping castles should ideally be used on your inflatables. You can also decide to clean your bounce house using a specialized bounce house cleaner.




Detergents you can find at your neighborhood garden store or chemicals from a reputable DIY store that might also be able to offer cleaning guidance.

Make sure the cleaning agent is suitable for any gear kids use. Some less expensive cleaning supplies might be adequate, but there's still a chance they could harm your inflatable castle's rubber surface.

Additionally, it would be best if you took precautions to prevent any chemicals from leaking into the ground and perhaps hurting the microbes that reside there. Therefore, covering the inflatable with a tarp is wise before deep cleaning it.

Read any directions or safety warnings included with the cleaning product carefully. Every type of cleaning agent and solution has its limitations and restrictions. For instance, a few of the most potent cleaning agents would severely dry up the material.

Therefore you may have to add water to reduce the agents to create the best possible cleaning product. Additionally, any detergents that aren't labeled with their contents are usually safe to use on a bounce house. The last thing to do is to make sure the chemicals you're applying are efficient, secure, and gentle on the materials they are being used on.

How To Make Your Own Cleaning Solution
If you don't want to use a store-bought solution, you can also make your own cleaning agent without any chemicals at home.

To begin, combine two tablespoons of dish soap, one cup of white vinegar, and around three cups of water in a spray bottle. Shake the soap to break it down. Sprinkle the mixture on the bounce house's surface and then remove it with a moist cloth. And after cleaning the entire fort, let the surface dry naturally before using it again.

One final piece of advice for cleaning bouncy castles is to try a small section of the inflatable with a few drops of any washing solution to ensure there won't be any nasty side effects like material staining or degradation.

The Coolest New Bounce House in Town
It is always fun to jump around in a bounce house, but imagine if it also had a fun shooter theme. The Jungle Shooter Funland from Ginflatables is just that!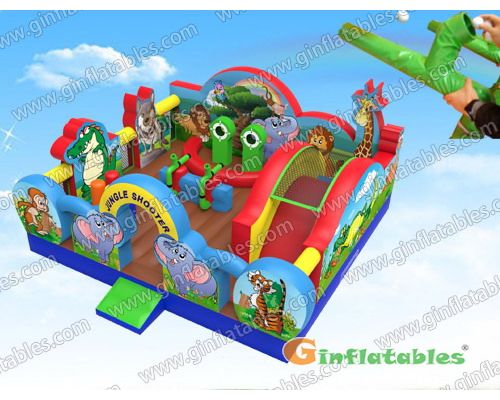 Jungle shooter funland moonwalk is a 6.3x5.8x3.0m Inflatable bounce house pop in outdoor & indoor places for children. It also comes with a slide and is a fantastic, fun world for kids to learn about jungle animals and immerse themselves in the jungle animal world. Get your hands on this unique inflatable bouncer and enjoy this jungle-themed wonderland's numerous features!

Conclusion
If you were worried about cleaning your bounce house, we hope this post helped you figure out how to get your inflatable bouncer squeaky clean without tiring yourself out. So give your kids an exciting experience with unique bounce houses like the Jungle Shooter Funland, and get your grubs on to prepare for another day of unlimited fun!