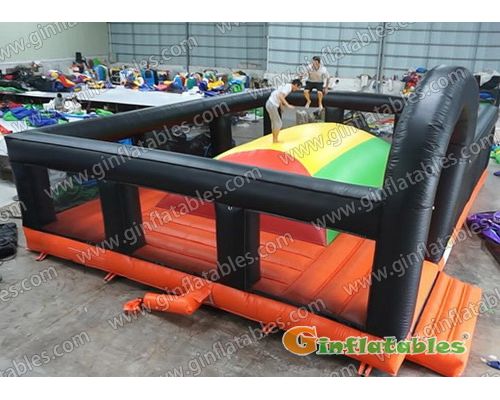 Things To Look Out For In A Inflatable Jumping Pillow
Do you remember the time when you were a kid and were ecstatic to see a jumping pillow in front of you? We all know that feeling of excitement and euphoria, and those emotions still linger somewhere deep inside when we come across another inflatable bouncer.

Just like they were back in the day, inflatable jumpers, commonly known as jumping pillows, are still super popular among kids of all ages. And although they can be incredibly fun, there are also high risks associated with inflatable bouncers.

Safety can be a huge concern when buying a jumping pillow for your kids, and we understand why. So if you're wondering whether you should buy a jumping pillow in the USA, you should go through this article to get a clear idea about the safety and maintenance of an inflatable bouncer. Here is everything you need to know.

How To Safely Install a Jumping Pillow

The installation of a jumping pillow plays a major part in the overall safety measure of your inflatable bouncer. So the first step for ensuring safety in your jumping pillow is to know how to install it correctly.

To set up a jumping pillow the right way, you must always read and abide by the installation instructions provided by the manufacturers. The basic instructions are to find a suitable installation space, place the jumping cushion, and secure it using the company's safety guidelines.

You can also watch a few videos on the internet to see the entire process before beginning it. These might help in getting a clearer idea of what to do and what not to do when installing your jumping pillow.

Following are some general suggestions for choosing an appropriate installation space:

● Firstly, choose a designated area for your jumping pillow. This will help to better regulate and safeguard player use inside the inflated bouncer and minimize the risk of hazards.
● Then you have to verify whether the location is level or not. It must not be on the bumpy ground to avoid the risk of falling. It must also be empty of sharp items, and not above or below any electric or utility lines.
● Lastly, make sure that there is enough room to accommodate a delicate area made of rubberized mesh, pea gravel, or soil that is at least five inches thick. Make sure the ground is also free of any impediments. The soft-landing zone should be located at least 8 feet all around the bouncing pillow.

Maintenance of a Jumping Pillow

After the installation process, maintenance of your inflatable bouncer is another important aspect to ensure its safety. Daily upkeep is required to keep the jumping cushion in good condition and guarantees protection.

Along with adhering to the manufacturer's recommended maintenance manual, be sure to follow these guidelines for safe playtime in your jumping pillow.

• Regularly wash and sanitize the jumping pillow to ensure that it stays germ-free.
• Remember to keep tabs on the daily weather conditions. It's fine to use it for long hours in sunny weather, but If it starts to rain, quickly compress the jumping cushion and stop using it until you can keep it dry.
• Be sure to keep track of all the repairs and inspections done on your inflatable bouncer. Maintain an entering and shutting audit log every day. Especially if your jumping pillow includes an inflatable water slide.
• And do not forget to conduct pre-season and post-season repairs along with weekly and monthly inspections.

Safety & Supervision for a Jumping Pillow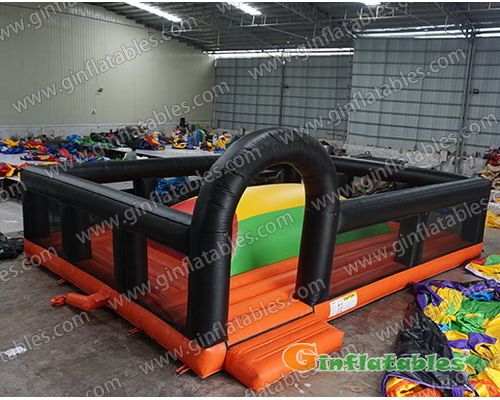 Coming to the last and most crucial part, the safety and supervision of your inflatable bouncer. Control and supervision of the players are essential for ensuring the safe use of the jumping cushion.

There are a lot of safety guidelines you can maintain in your jumping pillow, here are some general ones that should be followed when working with inflatables:
• First off, there must always be surveillance in place around and inside your bouncing house.
• The number of participants should be limited in number and it should be available for play by only a few at a time.
• Participants should be arranged into groups of similar size, usually by their height. You can also arrange them into groups according to their weights.
• You must keep someone around to supervise the kids when playing on the jumping pillow. The supervisor must be trained in CPR as well as first aid.

Other than these, there are some things you can keep in mind to ensure the safety of your kids inside their jumping pillows. For example, Physical fitness is a must, they should not be trying acrobatic movements like flips or somersaults inside the jumping house.

And they should not jump on slick surfaces or wear boots, slippers, flip-flops, or other footwear inside them to avoid wounding themselves or others. They should also avoid jumping close to the edge. And last but not the least, they should always be cautious about exiting the jumping pillow safely.

The Perfect Jumping Pillow For Your Family

You can find tons of bounce houses for sale online, or even in person. But it can be tough to choose the right jumping pillow for your family among the crowd of commercial bounce houses. If you're looking for an ideal jumping pillow, be sure to check out the one from Ginnflatables.

Their 33ftLx27ftWx12ftH sized inflatable bouncer comes with a 2-year warranty and some amazing features. Such as Commercial 15-18oz PVC Coated Tarpaulin, 1000D strongest inner baffles, finger protector safety mesh, removable slide liner, waterproof Velcro and webbing on all our units, anti-scratch protective coating on all printing materials, full-Automatic Cutting machine, etc.

Conclusion
Searching for inflatables for sale can be a challenging task, especially when these are for your loved ones. We hope our guide on jumping pillows USA has helped you figure out the safety guidelines for your jumping pillow and eased your search for the perfect inflatable bouncer for your home.