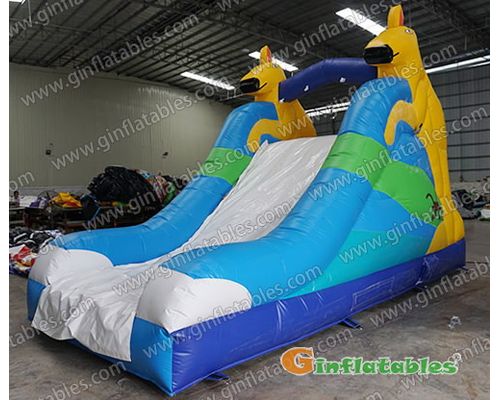 Perfect Inflatable Animal Slide: Kangaroo Slide
Is your child a fan of inflatable bouncers? Do you enjoy them just as much as well? We have a perfect suggestion for you! Get yourself a slide to bring in some variation!

But do not just buy any slide; they can be difficult to store if they are huge in size. Instead, try out an inflatable slide like the Kangaroo Slide by Ginflatables.

Perfect for both indoor and outdoor usage, this commercial-sized inflatable can really enhance your bouncy house experience. It can add an extra fun activity and keep your child engaged in the fun.

If you do not know much about inflatable slides and are wondering why you should buy the Kangaroo Slide, you are at the right place. Keep reading to find out the details about these slides.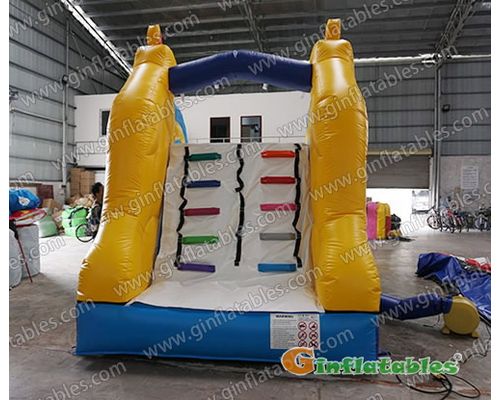 What is the Kangaroo Slide?
The Kangaroo Slide Inflatable is a commercial-grade inflatable slide, perfect for those looking for bounce houses for sale. These slides, made for children, are cost-effective and great for active children who like to climb, bounce, and slide.

Made with heavy-duty materials and reinforced stitches, this bouncy slide is sure to allow everyone to have some fun. In fact, at the size of 20ftLx10ftWx13ftH and 6mLx3mWx4mH, even the adults can hop on in!

What does the slide look like?
The Kangaroo Slide has a simplistic design for the most part. With blue and white being the primary colors used and the green strip for accent, the slide almost does not look like it is for kids. Until you look at the back.

On either side of the slide are two huge kangaroos, thus its name. These kangaroos are the main attraction of the slide. They are inviting for the children and really give the impression that it is a place for fun.

Features of the Kangaroo Slide
The Kangaroo Slide might be the one for you among all the inflatables for sale we have here at Ginflatables. Why so? Keep reading to see some of its features.
● The Kangaroo Slide is made of heavy-duty vinyl that is fire-resistant and completely lead-free so that you can ensure your kids' safety all the time.
● The inner baffles for this inflatable are 1000D, which is the safest you can ask for, and it has mesh that works as finger protection.
● It has extra reinforcement on the stress point and interior panels. This means that there is double stitching throughout the unit. It also has quadruple stitching and 6 rows of stitching in key areas inside the base of the unit.
● Ginflatables makes its inflatables for sale extra durable against wear and tear. This can be done with the help of the removable slide liner that protects the slide.
● The slides' prints and designs are done using high-definition digital printing with environmentally friendly ink. However, that does not reduce the quality in any way. The printed materials are all coated with an anti-scratch protective coating to maintain their longevity.
● If you are scared about the anchor breaking due to overuse, don't worry. They are made of alloy and never rust or form mold.
● With Ginflatables you are guaranteed high-quality inflatables for sale as the Kangaroo Slide is manufactured with a full-Automatic Cutting machine. This machine cuts and sews the materials with precision and accuracy.
● The Kangaroo Slide comes with a carton for the blower and a PVC bag for storage. You can use the blower to inflate it when you need it and the bag to store it when not in use.
● It comes with a 2 year warranty, so, if you receive the product with a whole or any other manufacturing defect, it will be replaced.
● This slide conforms with the standards of CE, EN71, EN14960, ASTM, ISO, Canadian TSSA, and Australian AS3533.4.1-2005.

Pros of the Kangaroo Slide
1. Comes in size 20ftLx10ftWx13ftH and 6mLx3mWx4mH
2. Has a warranty of two years
3. Bright colors make it attractive
4. Kangaroos make it inviting for chidren
5. Made with high-quality materials for durability
6. Reinforced seams and stress points for longevity
7. Anti-scratch, anti-tear
8. Comes with Carton For Blower, PVC Bag For Inflatables
9. Easy to store
10. Big enough for adults

Cons of the Kangaroo Slide
1. Only comes in commercial size; it might not fit everywhere
2. Can not leave children unsupervised as they can slip and get hurt
3. Might accidentally get punctured by children with a pencil, a pin, or any sharp object.
4. Can not hold too many adults

Conclusion
The Kangaroo Slide is perfect for you if you are looking for inflatable bouncers that provide a fun and stimulating activity for children.
If you are specifically looking for it for kids, you will be glad to know that this can hold the weight of multiple kids at once without showing any signs of wear and tear. Moreover, it has beautiful colors and kangaroos which make it very inviting for children.

You can join in even if you are an adult who wants to climb, bounce, and slide. This commercial-sized inflatable slide can accommodate you as well!

So, if you are ready to have some fun, go ahead and purchase the Kangaroo Slide today.