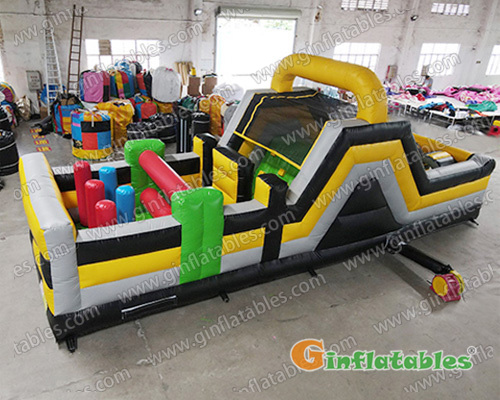 Is it Worth spending on an Inflatable Ninja Warrior Obstacle Course
Obstacle courses are highly used in schools, daycare, parks, and many other places. These sort of problem-solving courses gives your child an opportunity for an interactive challenge.

The inflatable ninja warrior obstacle course gives your child a complete package of various physical activities. At the same time, children need to use their strategic thinking to overcome obstacles. If you are looking for ways to improve your child's physical and thinking capability, obstacle courses are highly recommended.

In this article, we will look at whether it is wise to spend money on an inflatable ninja warrior obstacle course.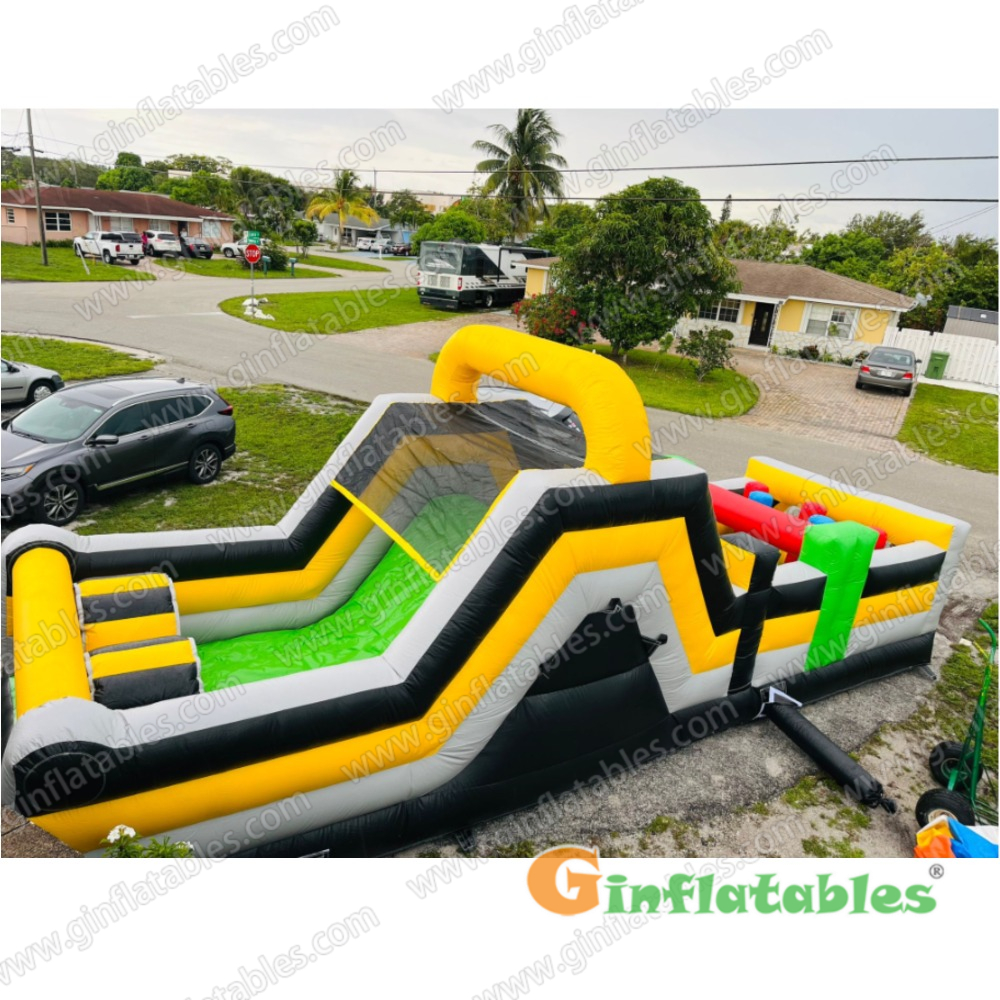 What are obstacle courses?
Obstacle courses are filled series of challenges that requires physical strength and problem-solving capability. Obstacle courses are usually almost like races where one is timed to overcome all the obstacles.

These types of problem-solving courses are used in various fields. It determines a person's physical capability and thinking process. Large-scale obstacle courses are used in the military area during recruitment. The candidates must jump, crawl, hang, climb and do various other activities to finish the course. There are various types of obstacle courses with different levels of difficulty.

For children, most of the time, inflatable obstacle courses are used. The inflatable ninja course is easier and safer for children and young adults. These inflatable courses usually have obstacles like crawling under nets, wall climbing, and various other fun activities.

A Ninja warrior obstacle course is one of the beloved forms of obstacle courses among children. It is easily found in parks and schools. Nowadays, you can also find inflatable ninja warrior obstacle courses, which you can set it up in your back yard.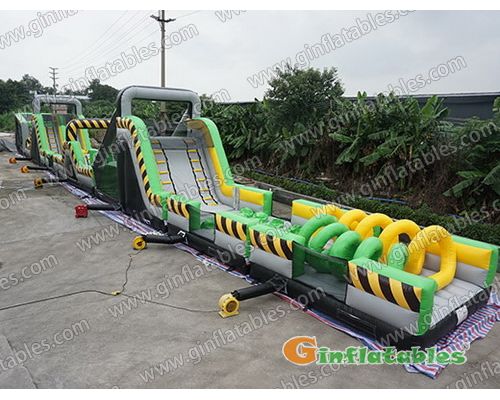 Overview of the Inflatable ninja warrior obstacle course
The ninja warrior obstacle course from Ginflatables is perfect for children. The multi-color outlook makes it attractive to children. The kids will be intrigued to hop on the inflatable bouncer to face various challenges.

The inflatable ninja warrior course is divided into four sections with various physical activities. To finish this course, children need to use various skills like crawling, jumping, pushing objects, and climbing.

The inflatable bouncer has many features, such as
● High-definition digital printing, which makes the outlook vibrant
● No chance of rusting as the anchors are all made of alloy materials
● It has waterproof Velcro, which makes it water resistant
● For enhanced safety measures, the inflatable bouncer has a finger protector safety mesh
● The inflatable jumper is manufactured from heavy-duty vinyl, which is commercial grade
● The material is fire retardant and is free from lead
● There are more than 100 reinforcements which makes the structure more sturdy
● There are six rows of sticking around key areas, which elevates the quality.

The pros of buying an inflatable ninja obstacle course
● The slides are removable, which makes them durable
● The inflatable bouncer has a good water drainage system
● Ensures high quality due to full-automatic cutting machine procedure
● Meets all the certification like CE, EN71, EN14960, ASTM, and ISO standard

The cons of buying an inflatable ninja obstacle course
● Inflatable bouncers are prone to get damaged if someone gets inside the ninja course with sharp objects
● These sorts of big inflatable jumpers may not always be appropriate to use at your house due to their gigantic size
● It may become quite difficult to refold the inflatable ninja course after deflating

Where can you use the inflatable Ninja warrior obstacle course?

If you are planning to rent or purchase an inflatable ninja warrior course, then there are several places you can use it.

School
You can set up an Inflatable ninja warrior obstacle course at school, especially preschool. This will encourage preschool children to take up these small obstacle course challenges. As a result, it will ipositively mpact their development of physical strength and thinking capability. Moreover, it will be a very fun way to pass the time during recess.

Park
Many parks already have proper obstacle courses targeted toward both children and young adults. You can implement an inflatable ninja warrior obstacle course at the park for safer measures.

Summer camps
Many children go to summer camps to improve their problem-solving skills and increase their physical activity. Setting up an inflatable bouncer-like ninja warrior course will be a very fun way to introduce obstacle courses to children.

Backyard
You can also set up the inflatable ninja warrior course if you have a large backyard. This inflatable bouncer can be used during parties which will encourage children to spend quality time together.

What are the benefits of using an Inflatable ninja obstacle course?
There are several benefits your child can experience due if they practice these obstacle courses.
● The motor skills of your child will improve drastically. They are doing several physical activities which require them to use their muscles. Hence, it will help them to develop their motor skills better
● Secondly, inflatable ninja warrior courses can enhance your child's thinking and memory capability. As they use their thinking process to overcome obstacles.
● Inflatable ninja warrior courses also encourage healthy habits. All these physical activities help your child to lose calories which in turn helps them to live a healthier life. This also helps them to improve their physical strength and balance. Children will feel more energized.
● Moreover, inflatable bouncers also assist your child in improving their social skills. They can make several new friends while completing these obstacle courses. Children will also understand the concept of communication and teamwork better.

Conclusion
In conclusion, we believe it will be worth the money to spend on the inflatable ninja warrior obstacle course. It is highly beneficial for child's physical health as they can exercise in a fun way. Moreover, the inflatable ninja warrior obstacle course is also helping them to develop their thinking process. Our recommended ninja warrior inflatable will give your child an entire fun experience of an obstacle course!