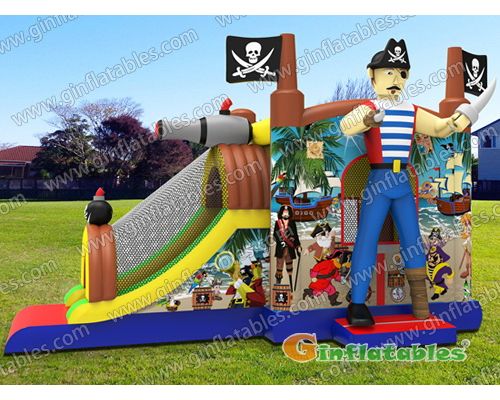 Is It Worth Buying a Bounce House for Kids?
A bounce house is an excellent idea for a fun activity for kids. You can never go wrong with a bounce house, whether it is a kid's birthday party or just a regular fun activity.
In today's technology-driven world, adults and kids are bound with the alluring smartphones, gaming devices, and so on.
Many parents plan on buying a bounce house to encourage their kids to leave their devices and spend time outdoors. However, there are a lot of parents who think that purchasing a bounce house for kids is a bad idea.
So, in this guide, we will discuss whether buying a bounce house is worth it or not. Buying a bounce house for kids comes with quite a few significant advantages and disadvantages.
Advantages and Disadvantages of A Bounce House
So, what could be the advantages and disadvantages of bounce houses? Do they have any benefits? Let's discuss this in detail now.
Advantages of Bounce House
Helps with Exercising
One of the significant advantages of buying an inflatable bouncer for kids is that it helps with a child's development. Jumping is a vigorous activity, and it helps to activate some of the major muscle groups in the human body.
Bouncing on a bounce house helps to ensure hand-eye coordination and have a great cardiovascular exercise session.
Other than that, these inflatable bouncers also get the kids to play outdoors, which is an excellent way of ensuring that the kids get fresh air and vitamin D.
Bounce houses are also helpful for kids who suffer from weight issues, as jumping around on the inflatable bouncer burns many calories compared to other kids' activities.
Like adults, kids also experience anxiety, stress, and tension, and jumping on the bounce house can help the kids to relieve stress.
Can Fit Anywhere
Inflatable bouncers are also perfect for rainy days or the winter season. Several small bounce house models are available that you can set up inside your house or in your home's garage.
You can easily fit a small inflatable bouncer in your living room. You must not ignore this feature, as you can easily set it up inside your home on rainy or windy days. So, this does not affect the fun activities of your kid.
It Helps Kids to Make New Friends
Can't your kids make many new friends? Well, a bounce house might come in handy!
A bouncing house also has a few social benefits for the kids. One of the most significant social benefits of a bounce house is that it encourages the kids to make new friends.
Like a playhouse or pool, a bounce house allows your kid to play with the neighborhood kids and be friends.
It allows the kids to make new friends, but it also helps boost confidence and self-esteem. Purchasing a bounce house will improve your kids' social circle if you have recently shifted to the neighborhood or block.
You can invite the nearby kids to play in your bounce house and make it easier for your kid to make new friends with other kids. It allows kids to enjoy fun outdoor activities, and you can use this time to make friends with the other parents.
Disadvantages of Bounce House
And now, we'll talk about some of the demerits of the bounce house.
It Might Cost Quite a Bit
One disadvantage that affects the decision of the majority of parents is the cost of the bounce house. But purchasing an inflatable bouncer can also turn out to be a cost-effective option in the future. How? Once your kids are old enough to stop playing on the bounce house, you can sell it to someone else.
A bounce house can often pay for itself very quickly. If you rent out your inflatable bouncer to people when you go out for vacation or do not use it much, then you can earn enough money to pay for the bounce house.
Suppose you clean the inflatable bouncer regularly and adequately. And make sure to take care of it by following the recommendations and instructions from the manufacturer, then you can sell it off after a few years of use. Usually, bounce houses can be sold for half or one-third of their original price.
Kids Not Using It
A disadvantage that comes with buying an inflatable bouncer is that many kids get bored of the bounce house after a few months of use.
However, you can quickly get rid of this problem by choosing a compatible size of the bounce house and finding a model that the kids will surely enjoy for a few years. Fortunately, many suitable models are available that suit your budget and requirements.
Melt Down Bounce Combo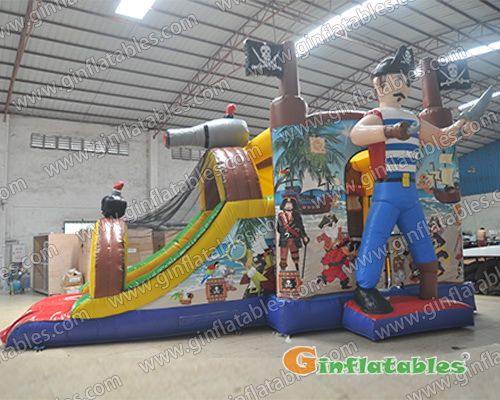 If you are searching for a good bounce house for your kids, we recommend checking out the Melt Down Bounce Combo by Ginflatables.
This product is packed with some of the most remarkable features that make it a good choice for most parents. It is made with top-quality commercial-grade vinyl and does not contain any lead.
This product also features a finger-protecting safety mesh and additional reinforcement on the interior panels and stress points.
The size of the product is 22ft x 18ft x 13ft, making it a medium-sized bounce house for kids. One thing we can guarantee about this specific bounce house is that it will keep the kids heavily interested.
Conclusion
A bounce house for kids is an excellent investment that helps improve your kids' health and is a great fun activity. It also helps your kids make new friends and improves your kid's mental health by relieving stress and boosting confidence and self-esteem.
If we talk from our personal opinion, buying a bounce house is 100 percent worth the money.